When we planned the Digital British Islam project, we were acutely aware of the challenges associated with studying and mapping the ever-expansive terrain of Muslim digital spaces. The digital world, more than ever before, is vast and varied, multi-layered and multi-faceted. It is embedded in our daily lives, but it is also said to offer an alternative or a mirror to them. Some people talk about their digital life as something of an escape from aspects of their 'real' lives. Whereas for others, digital spaces can enhance, add to, or validate aspects of their 'real' lives.
The task of appreciating this range and granularity in our research was never going to be easy. So early on, we recognised that one way to capture this was to employ a number of different data collection methods. As I write, my colleagues and I are busy conducting extensive one-to-one interviews, finalising a wide-scale survey and collecting responses to it for analysis. As well as recruiting and engaging with participants who will generously share with us digital diary entries, documenting aspects of their online daily lives over the course of a month.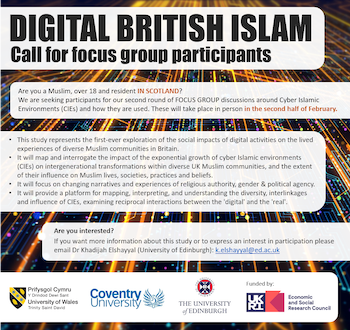 But our first round of data collection was conducting a series of small focus group discussions. The thinking behind these sessions was to bring together participants from a range of walks of life. Across generations, genders, cultural backgrounds, professions, interest and geographies. In order to engage in open-ended discussion around the three main themes of our project – activism, agency, and gender. We wanted to draw on these conversations to develop our approach and investigation in our other areas of data collection. In this sense, our focus groups were to be a formative and a foundational element in relation to all other areas of our data gathering and public engagement.
To this end, in the period between September 2022 and February 2023, I held ten separate audio-recorded discussions with small groups of participants – with numbers ranging between three and eight participants in each session. Considering that we were scheduling between 1 to 1.5 hours for each session, capping participant numbers at a maximum of eight was important as a way of facilitating the development of genuine rapport and ease, and allowing sufficient time and space for all participants to contribute meaningfully. Recruitment was through a number of avenues. A call for participants went out on various social media channels, as well as email lists. I also drew heavily on my own networks, developed over the years through my various personal and invaluable connections within Muslim communities and spaces, as well as through my academic research.
Because the in-person sessions were held in different cities across England, Scotland and Wales, I approached contacts at community venues and organisations for assistance in recruitment locally. A number were kind enough to host our sessions at their premises which was a huge help, and even more also supported me with word-of-mouth publicity as well as notices in local networks (physical and virtual), proving crucial sources of information and recruitment for me as I brought participants together to form these group discussions. I'd like to record here my thanks to friends at Now in a Minute Media, EYST Wales, Al Ikhlas Centre in Cardiff, Cardiff New Muslims Club, IHRC bookshop in London, Whitechapel IDEA Store, East London Mosque, the Sunday Circle in south London, Edinburgh Central Mosque, Andalus in Glasgow as well as many online networks and forums which very kindly assisted with recruitment.
Transparency, information and the comfort of my participants were all central to the ethics of how I approached this exercise. As the first substantive opportunity for Digital British Islam to engage with the public – it was important to offer an introduction to the project. This involved making accessible and digestible information available, both in advance and at each individual session, as well as engaging in discussions and answering any questions that potential participants had. Some participants had questions around the project itself as well as the University of Edinburgh's research ethics procedures which we were adhering to, so I ensured that this information was available as well as clarifying that the project had undergone ethics scrutiny by the ESRC.
I was also careful to hold each of my in-person sessions at venues that would be both convenient and comfortable for participants. To this end, we held sessions at public libraries, mosques, community-run learning spaces, as well as one at the Alwaleed Centre, which, although formally a university venue, has a long track record of public engagement and outreach and as such is a familiar and accessible space for many Edinburgh Muslims. Little things like making space available for prayer where relevant, as well as factoring in time for introductions and questions (both in relation to the project and between participants, myself and one another) were all important to me, and I believe they helped to facilitate an atmosphere conducive to open and frank discussion and debate.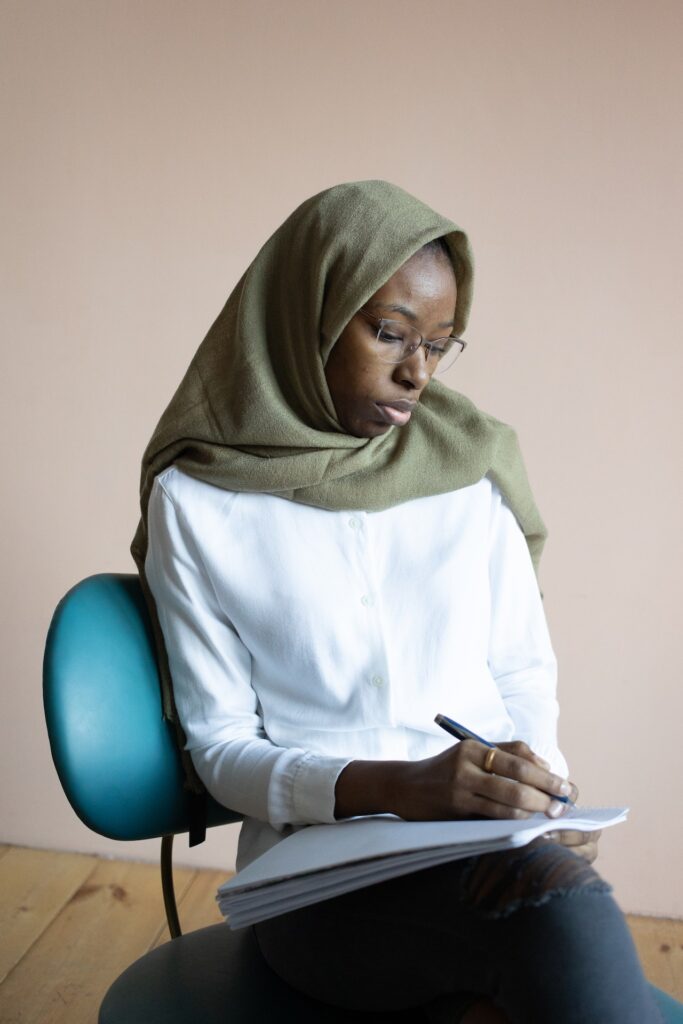 I was deeply aware of the imbalance in the exchange between my research participants and myself. In essence, I was offering them very little tangible benefit in return for their knowledge, experiences and perspectives – all extremely valuable resources for me as a researcher, and essential to this project's success. I felt it was important to acknowledge this, and appreciate and highlight the voluntary nature of everyone's contribution, emphasising to everyone that they had access to options for limiting participation, for maintaining anonymity and also for withdrawal. An inevitable corollary of this was that we had one or two apologies, no-shows and/or latecomers at each of our sessions, whether in person or online. There wasn't a huge amount that could be done in terms of mitigating this risk, except to make sure all participants had access to information in advance of the session, and to send reminders and instructions close to the time of the session.
Finally, I was also highly conscious of my own role as a moderator. As much as my role was to listen and learn, at the same time, as someone working on the topics and questions under discussion, I wanted to ensure that these sessions provided us with data that was topical and useful. I was extremely fortunate that without exception, each focus group session generated rich, lively and varied discussions among participants. Many participants arrived with specific issues that they wished to discuss, whereas others found themselves challenged or motivated by the contributions and comments of others in the group. Watching these exchanges unfold was a real joy and privilege for me, and I cannot overstate how much it has been central to the conceptualisation of further data collection and the development of the project more generally.
The focus group exercise not only offered us a window into which issues occupied people's minds when it came to the digital space – but also gave space to reflect on behaviours, hazards and opportunities, connections and networks, generational variations and overlaps, restrictions (in-person and/or virtual) relating to information, education, communication, organising, and so much more. many of the themes, questions and debates that featured in the focus group discussions are now guiding us as we progress into our other forms of data capture – for example, by assisting us in refining the questions we ask, the platforms we seek to explore, archive, and document, and the people and organisations that we approach for interview.