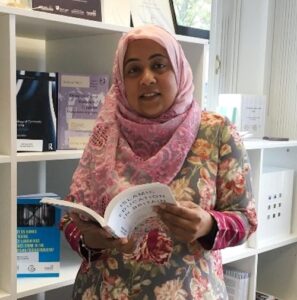 Sariya Cheruvallil-Contractor is Assistant Professor and Research Group Lead for Faith and Peaceful Relations at the Centre for Trust, Peace and Social Relations, Coventry University, UK. Sariya is Co-Investigator for the Digital British Islam project.

Sariya is Chair (2020-2023) of the Muslims in Britain Research Network (MBRN) and is editor of the Review of Social and Scientific Study of Religion. Her research emphasises collaborative methodologies that work with and for research participants. As a feminist sociologist of religion, she has a keen interest and appreciation of the power dynamics within knowledge production and the implications of the processes and systems of knowledge on society as a whole. Her portfolio of research critically interrogates how we 'do' knowledge while also giving voice to lesser-heard and harder-to-reach sections in society including British Muslim Communities, religious women and vulnerable children. Decolonising and Feminist methodologies are central to her methods toolkit. She has a strong track record of delivering externally funded research (total value c. £2,550,000).

Sariya's publications include Muslim Women in Britain: Demystifying the Muslimah (Routledge 2012), Religion or Belief, Discrimination and Equality: Britain in Global Contexts (Bloomsbury 2013), Islamic Education in Britain: New Pluralist Paradigms (Bloomsbury 2015), Digital Methodologies in the Sociology of Religion (Bloomsbury 2015), Islam on Campus: Contested Identities and the Cultures of Higher Education (OUP 2020), a number of journal articles and book chapters.
ORCHID ID: 0000-0002-4263-3127