The National Movements and Organisations collection represents one of the most dynamic and intense areas of online discourse, making it a pivotal point within the Digital British Islam archive. The project will be capturing multiple iterations of these critical sites to chart significant responses to specific issues and concerns for Muslim communities, as presented through significant Muslim representative organisations in the UK. The platforms under consideration may project national authority and agendas, although they do not necessarily 'represent' all communities, affiliations and perspectives. The project intends to focus on how they operate specifically in the zones of religious authority, gender, and political agency – with other aspects of the collections reflecting these elements in due course.
Since the early days of the World Wide Web, websites have played an increasingly significant role in the dynamics of Muslim national movements and organisations in the UK.[i] Design and content management have evolved as digital literacy increased and the digital divide diminished. 'Digital natives' have informed these developments, especially with the increasing expectations of audiences that they could access information about Islam and Muslims in the UK through their browsers and mobile devices. Platforms that have invested in these tools form part of the cyber-Islamic environments under discussion within the Digital British Islam project, especially regarding how their identities and agendas project in regional and national contexts. Even the previously most reluctant organisations recognised the need for an online presence. Multiple Muslim identities present online as reflections of diverse perspectives, influences and thought – including activism and approaches towards authority and leadership.[ii]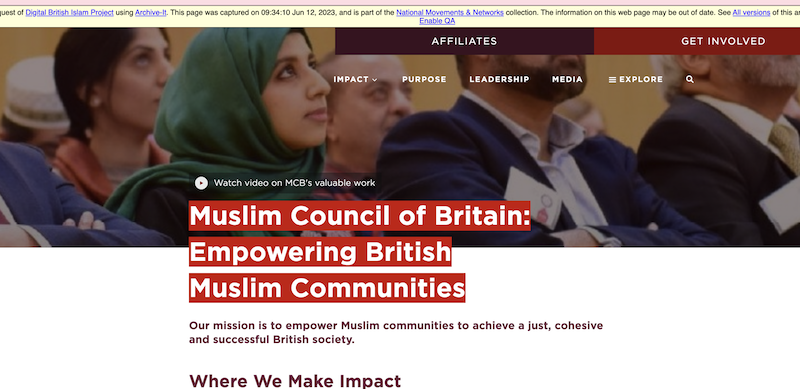 This collection preserves a snapshot of online activities for key policymakers and drivers within religious and political frameworks. These include the Muslim Council of Britain, the Muslim Council of Wales, and the Muslim Council of Scotland. While it is possible to track back their online activities via the Internet Archive to the early 2000s, the DBI collection provides a one-stop shop to compare and contrast responses across a fixed historical period. In time, through data visualisation and analysis, DBI will explore how these responses are formulated in cyberspace and whether they have a real-world impact on communities and societies. This approach is in conjunction with other aspects of the project, including interviews, diaries, and the survey. Ethical constraints and data limitations prevent the capture of social media activities. However, the project will still incorporate them into the analytical framework when it focuses on responses to specific issues and agendas during the project's duration.
At this stage, some organisations and platforms in this collection are more digitally aware of regularly updating their content and designs rather than presenting static and less engaging pages. This level of interactivity links with d the digital literacy of content providers alongside factors such as an investment of resources in digital outreach, which for some platforms can include professional input in design and content creation. For some, the presentation of policy and news dominates their front pages, focused on content potentially appealing to a wide range of readers/users.
During the formulation of this research project, the team has also seen some sites which prefer a 'heavier' presentation of video and audio files on front pages, featuring sermons and speeches, which might suggest a focus on readers familiar with the ethos and perspectives of these platforms and organisations. Content is not necessarily 'user friendly'. It can be challenging to navigate while suggesting that content creators believe audiences need more time and inclination to sit through sermons and speeches (not necessarily reflected in the metrics for this content!).
It is also interesting to determine the different priorities of platforms and organisations, from providing basic religious information for (potential) converts to detailed Qur'an commentaries, expositions on hadith, and/or legal and esoteric concerns. The policy formulation and approaches towards specific concerns impacting Muslim communities are also captured within these websites, including (most recently) responses to COVID-19 and mosque security concerns.[iii] The project's interviews and survey will unpick the significance of these and other content areas on users across different demographic groups, including exploring underlying assumptions associated with platform usage in different age ranges, online attention spans, and how users mediate content.
Visit the National Movements and Organisation's Collection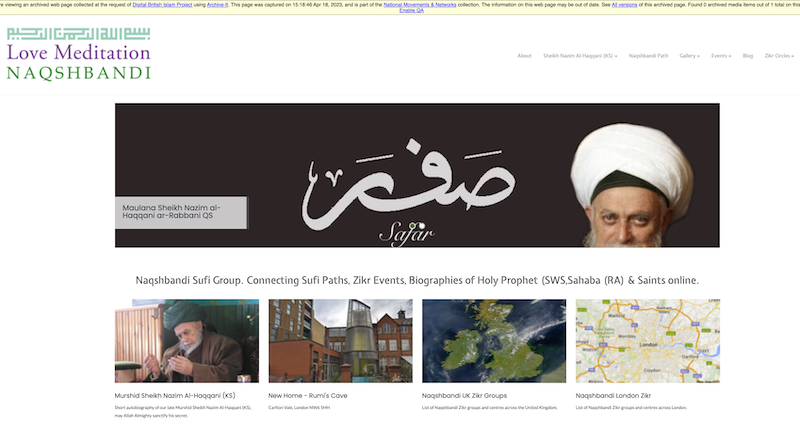 The formal archiving of digital activities within Muslim national movements and organisations offers a platform for future analysis and discussion within a transient content publication and discourse area. It allows users to quickly explore and compare online content across the spectrum of Muslim understandings in the UK (relevant for community members and interested external viewers as much as academics). The descriptors provide a quick introduction to organisations and their activities. The tags allow users to compare sites related to specific themes and subject areas (the tags will increase as the project progresses). The project will determine what is shared and unique to specific world views and outlooks as presented in cyber-Islamic environments in the UK. As the DBI project progresses, these will also link to other aspects and collections coming online in due course.
---
[i] Gary R. Bunt. "isl[email protected]: British Muslim Identities in Cyberspace." Islam and Christian-Muslim Relations, vol. 10, no. 3, 1999, pp. 353-62. —. "From Mosque to YouTube: Cyber Islamic Networks in the UK." Postcolonial Media Cultures, edited by Ros Brunt and Rinella Cere. (London: Palgrave Macmillan, 2011).
[ii] Philip Lewis and Sadek Hamid. British Muslims: New Directions in Islamic Thought, Creativity and Activism. Edinburgh University Press, 2018). Hussein Kesvani. Follow Me, Akhi: The Online World of British Muslims. (London: C. Hurst & Co, 2019). Sophie Gilliat-Ray. Muslims in Britain: an introduction. (Cambridge: Cambridge University Press, 2010).
[iii] Gary R. Bunt. "The Net Imam Effect: Digital Contestations of #Islam and Religious Authority." Cyber Muslims: Mapping Islamic Digital Media in the Internet Age, edited by Robert Rozehnal. (London and New York: Bloomsbury Academic, 2022).